SALT is pleased to be in the final editing stages of Choosing the Right Law School for You: A Consumer Guide for the Social Justice-Minded Law Student. This book will offer an overview of the legal profession and different paths to social justice advocacy. It will feature information on law school admissions, debt repayment, and choosing the right law school for you, as well as information on the law school curriculum.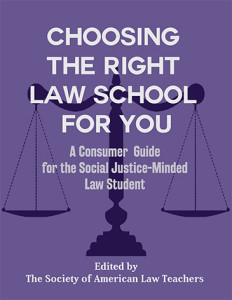 This book is intended to:
Highlight the access to justice gap and the lack of diversity in the legal profession
Affirm the purposes of law and lawyers as stewards of justice
Present alternative options/models for pursuing a career in public interest, including by pursuing a low bono practice in underserved communities
Provide practical guidance on financing a legal education and managing debt post-graduation, including explanation of the federal loan forgiveness programs
Demystify the admissions process, share insight on admissions decisions and provide the tools to negotiate a better offer through financial aid or scholarships
Identify the factors law students should weigh when choosing a law school
Empower social justice-minded law applicants as consumers to make the best choices
Click here for the online version of SALT's free Consumer Guide, available online December 2015.