SALT is delighted to announce its 2018 Junior Faculty Award recipient: Prof. Troy Andrade. The award will be given at the October Teaching Conference! We look forward to celebrating Professor Andrade.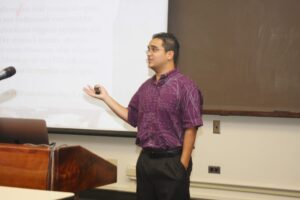 Prof. Andrade is an Assistant Professor of Law and Director of the Ulu Lehua Scholars Program at the University of Hawai'i at Mānoa William S. Richardson School of Law. He elevates SALT's values in his teaching, scholarship, and service. For example, Prof. Andrade has demonstrated a strong commitment for increasing access to and inclusion at Hawai'i Law and the state bar through his work with the Ulu Lehua Scholars Program, which admits and assists law students who have overcome adversity and who show promise of serving underserved communities.
Additionally, over the past year, he met with over 150 prospective law school students throughout the Hawaiian Islands and Guam. Prof. Andrade has also been at the cutting edge of Hawaiian legal history scholarship. His recent piece, Legacy in Paradise, for example, critically analyzed President Obama's bold effort toward federal recognition for Native Hawaiians, while his current book project examines the intense legal-political struggles over the history of injustice for Native Hawaiians and possible reparative actions.
Finally, in each of the courses he teaches, including the American Legal System I and II and Legal History of Hawai'i, Prof. Andrade attempts to provide context and help students remain committed to making our legal system more humane and accessible. In all that he does in the classroom and beyond, Prof. Andrade reflects his own deep Native Hawaiian roots and values. As one student shared, "Professor Troy Andrade inspires me to be a great person." His works inspires SALT as well and we are grateful for his contributions.