SALT is excited to honor these champions of justice, diversity, and teaching excellence at its upcoming Virtual Annual Awards Celebration to be held on January 7, 2022.  See below for details on each incredible awardee.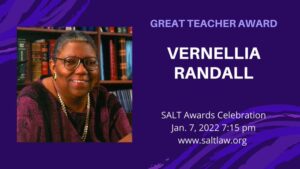 Great Teacher Award awarded to Vernellia R. Randall of the University of Dayton School of Law.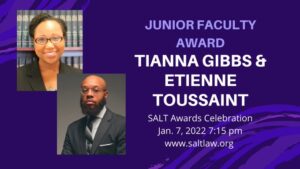 Junior Faculty Award awarded to Tianna Gibbs of UDC David A. Clarke School of Law and Etienne Toussaint of the University of South Carolina School of Law.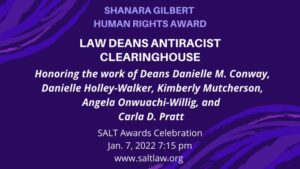 M. Shanara Gilbert Human Rights Award awarded to the Law Deans Antiracist Clearinghouse Project, created by Danielle M. Conway of Penn State Dickinson Law, Danielle Holley-Walker of Howard University School of Law, Kimberly Mutcherson of Rutgers Law School, Angela Onwuachi-Willig of Boston University School of Law, and Carla D. Pratt of Washburn University School of Law, and to Elizabeth Frankel (posthumously).
SALT will also present the inaugural "Essence of SALT" award this year.  This occasional award goes to a group or individuals whose work "Uniquely Advances SALT's Mission."
Essence of SALT Award awarded to the Collaboratory on Legal Education & Licensing for Practice for seizing the opportunity presented by the pandemic to persistently, strategically, and creatively reframe local and national understandings of the best practices for assessing the qualification to practice law with a clear focus on racism, equity, and justice. The Collaboratory includes almost a dozen law scholars from across the country. Individual members are named below.
Claudia Angelos, Clinical Professor of Law, New York University School of Law
Sara J. Berman, Professor of Law and Assistant Dean of Academic Excellence and Bar Success, Touro College, Jacob D. Fuchsberg Law Center
Mary Lu Bilek, Former Dean and Professor of Law, UMass Law School and CUNY School of Law; Member, Council of the ABA Section on Legal Education and Admission to the Bar
Carol L. Chomsky, Professor of Law, University of Minnesota Law School
Andrea A. Curcio, Professor of Law, Georgia State University School of Law
Marsha Griggs, Associate Professor of Law and Director of Academic Enrichment and Bar Passage, Washburn University School of Law
Joan W. Howarth, Distinguished Visiting Professor, William S. Boyd School of Law, University of Nevada at Las Vegas; Dean Emerita, Michigan State University College of Law
Eileen Kaufman, Professor Emerita, Touro College, Jacob D. Fuchsberg Law Center
Deborah Jones Merritt, Distinguished University Professor and John Deaver Drinko/Baker & Hostetler Chair in Law Emerita, Moritz College of Law, The Ohio State University
Patricia E. Salkin, Senior Vice President for Academic Affairs and Provost of the Graduate and Professional Divisions, Touro College; Professor of Law, Touro College, Jacob D. Fuchsberg Law Center
In Memoriam: Judith Welch Wegner (Founding Collaboratory Member), Burton Craige Professor of Law Emerita, University of North Carolina School of Law
Join us to celebrate each of these awardees on January 7 beginning at 7:15 pm Eastern, join the celebration here. (Watch for updates.  This seems to be evolving a bit.)