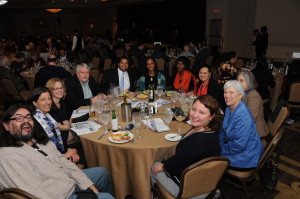 (Table of SALT members and special guests at the 2015 Annual Dinner)  
  Colleagues and friends convened for this special evening with SALT, January 4th, as we celebrated the lifetime work and influence of Professor Martha 'Marnie' Mahoney of the University of Miami School of Law, and Professor Hope Lewis of Northeastern University School of Law. SALT extends its deepest gratitude to the annual dinner chair, Margaret Kwoka, the Dinner Committee, sponsors, friends of Marnie and Hope, and the SALT Board for its work to ensure the success of the 2015 event.
 

SPECIAL THANKS TO PLATINUM SPONSORS
THE JOHN MARSHALL LAW SCHOOL
UNIVERSITY OF MIAMI SCHOOL OF LAW
UNIVERSITY OF NEVADA LAS VEGAS WILLIAM S. BOYD SCHOOL OF LAW
NORTHEASTERN UNIVERSITY SCHOOL OF LAW
 NOVA SOUTHEASTERN UNIVERSITY SHEPARD BROAD LAW CENTER
& to GOLD SPONSORS
American University Washington College of Law
The University of Arkansas Fayetteville School of Law
Charlotte School of Law
University of Denver Sturm College of Law
University of the District of Columbia David A. Clarke School of Law
Fordham University School of Law (by Faculty)
The George Washington University Law School
Georgetown University Law Center
Howard University School of Law
University of Maryland Francis King Carey School of Law
University of Massachusetts School of Law – Dartmouth (by Dean Bilek)
Michigan State University College of Law
Penn State University – Dickinson Law
Penn State University – Penn State Law
Seattle University School of Law
Texas Southern University Thurgood Marshall School of Law
Touro Law School
Vermont Law School
University of Washington School of Law 
TABLE of 10: GOLD SPONSOR
  Includes seats for 10, recognition online and in program materials, and one page ad.  
TABLE of 10: PLATINUM SPONSOR
Includes seats for ten, top billing and recognition on dinner materials, and one page ad.    
2015 HONOREES
Professor Hope Lewis 
2015 M. Shanara Gilbert Human Rights Award
Northeastern University School of Law
Professor Lewis
is Faculty Director of Global Legal Studies and a founder of the 
Program on Human Rights and the Global Economy
 (PHRGE). An internationally recognized legal scholar and commentator on human rights, she co-authored the textbook 
Human Rights & the Global Marketplace: Economic, Social, and Cultural Dimensions
 (Brill, 2005). She is a founding co-chair of the American Society of International Law (ASIL) International Disability Rights Interest Group and served on the ASIL executive council between 2010 and 2013. She now serves on the board of governors of the Society of American Law Teachers and the executive committee of the Association of American Law Schools Section on Minority Groups.  
Professor Lewis is a co-drafter and compiler of the Boston Principles on the Economic, Social, and Cultural Rights of Non-citizens, a project of the law school's Program on Human Rights and the Global Economy. Her research and teaching interests include public international law; international human rights law; critical perspectives on Identity and international law (race, gender, culture, migration status and disability), as well as globalization and social development.   She is the 2014 Kate Stoneman Visiting Professor of Law and Democracy at Albany Law School (April 2014) and she is the recipient of the 2012 American Bar Association's Mayre Rasmussen Award for Mentorship of Women in International Law. She is also a recipient of the 2011 Thomas J. Carroll Award from the Carroll Center for the Blind and the Massachusetts Commission for the Blind as well as the 2001 Haywood Burns/Shanara Gilbert Award from the Northeast Regional People of Color Legal Scholarship Conference for her human rights work and mentorship of students and colleagues. Professor Lewis was a 2008 Sheila Biddle Fellow (Ford Foundation) of the W.E.B. DuBois Institute for African & African-American Research at Harvard University.  
Professor Martha Mahoney
2015 Great Teacher Award
University of Miami School of Law

Professor Mahoney 

is Professor and Dean's Distinguished Scholar at the University of Miami School of Law. A former community organizer, she was a founding member of the San Francisco Women's Health Collective, served as volunteer coordinator in New Orleans for the United Farm Workers boycotts, and worked in offices and factories. Her master's thesis in history at Tulane University focused on public housing, race, and economic development in New Orleans. She graduated from Stanford Law School in 1989 and clerked for Judge Warren J. Ferguson of the Ninth Circuit Court of Appeals before arriving at Miami in 1990. Her legal scholarship focuses on law and social change. She is co-author (with John Calmore and Stephanie Wildman) of CASES AND MATERIALS ON SOCIAL JUSTICE: PROFESSIONALS, COMMUNITIES AND LAW, SECOND EDITION (Thomson/West 2013). She has written extensively in the area of domestic violence and feminist theory, and in the area of race, class, and development. Her recent work on the intersection of class theory and race emphasizes the ways in which law made solidarity difficult for American workers while the ideology of white privilege helped conceal the divisive role of law.   Professor Mahoney's articles on economic and racial inequality include: 

What's Left of Solidarity: Reflections on Law, Race, and Labor History

, 57 Buffalo Law Review 1515 (2009); 

Democracy Begins at Home: Notes from the Grassroots on Lawyers, Voters, and Inequality

, 63 University of Miami Law Review 1 (2008); 

Class and Status in American Law: Race, Interest, and the Anti-Transformation Cases

, 76 Southern California Law Review 799 (2003), and 

Constructing Solidarity: Interest and White Workers

, 2 University of Pennsylvania Journal of Labor and Employment Law 747 (2000). Within this field, her work on housing and urban development includes:

 Whiteness and Remedy: Under-Ruling Civil Rights in

 Walker v. Mesquite, 85 Cornell Law Review 1309 (2000); 

Segregation, Whiteness, and Transformation

, 143 University of Pennsylvania Law Review 1659 (1995), and 

Law and Racial Geography: Public Housing and the Economy in New Orleans

, 42 Stanford Law Review 1251 (1990). Professor Mahoney's work in criminal law began with an effort to resolve problems involving domestic violence and claims of self-defense and expanded to include feminist theory and challenges to social change. Her published work on violence against women, feminist theory, and criminal law includes 

Oppression or Victimization? Women's Lives, Violence, and Agency

, in Martha Albertson Fineman and Roxanne Mykitiuk, eds., The Public Nature of Private Violence (1994), 

Whiteness and Women, In Practice and Theory: A Reply to Catharine MacKinnon

, 5 Yale Journal of Law and Feminism 217 (1993), 

EXIT: Power and the Idea of Leaving in Love, Work, and the Confirmation Hearings

, 65 University of Southern California Law Review 1283 (1992), and 

Legal Images of Battered Women: Redefining the Issue of Separation

, 90 Michigan Law Review 1 (1991). Governor Lawton Chiles appointed her to serve on the Domestic Violence Review Panels consulting for the Florida Parole Commission on domestic violence issues in petitions for clemency.   She has served as Chair of both the Poverty Law Section (2005) and the Property Law section (1999) of the Association of American Law Schools. From 2001-2005, she was a member of the Board of Governors of the Society of American Law Teachers. After the 2002 election brought Florida's second consecutive voting crisis, she worked for years with citizen activists, lawyers, and civil rights groups in the Miami-Dade Election Reform Coalition, a local organization that became a model for civic engagement and a leading voice in work on election technology, voting rights, and equality for minority language voters. Her current work-in-progress returns to self-defense law: 

Why Didn't 

We

 Leave? Expert Evidence, the Legal Profession, and Failure to Move on from a "Syndrome" Framework for Intimate Partner Violence

. She is also working on a book, THE HOLLOW HEART OF THE PUBLIC/ PRIVATE DISTINCTION: CLASS, RACE AND LAW, and continuing research on mortgage foreclosures and on the complex legal issues and national security problems of electronic and internet voting.   Professor Mahoney teaches courses on Property, Criminal Law, Law and Social Justice, Election Law, and (since 2011) the Mortgage Crisis; she has also taught Land Use and seminars on Race, Class and Inequality, Domestic Violence, and Race and Urban Development.