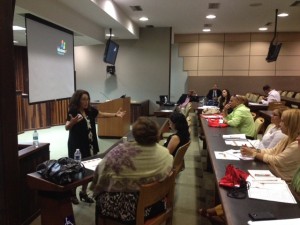 Long-time SALT member Margaret Montoya, Emeritus Professor at University of New Mexico and Senior Advisor to Executive Vice President for UNM Health Sciences Center speaks to the professionals gathered in concurrent programming, discussing the legal market, law schools, and the need for public interest attorneys and the students who can fill those roles.
Natalia Galindez(left), Rocio De Felix (middle), Josue Cruz (right)
Current law students organized UPR's pipeline program 'ENLACE' with clinical professor Mariluz Jimenez, who altogether will see the program's first participant from 2009, take the LSAT shortly – who is now completing his undergraduate studies. More from him later… ENLACE has put together the majority of today's program. Many thank to these exceptional students – they will, no doubt, go far in the law.