Reporting in directly from the University of Puerto Rico, Escuela de Derecho, we are currently joining NEPOC and hosting a panel with Judge Jenny Rivera, Roberto Colon from the Hispanic National Bar Association, Rafael Cancel from the Nat'l Association of Environmental Law, Charles Hey-Maestre from Puerto Rico Legal Services, William Ramirez – Executive Director of the ACLU of Puerto Rico, and Ana Irma Rivera-Lassen- the President of the Puerto Rico Bar Association.
Panel 1 for students of Professionals in the Puerto Rican Bar
High school student traveled hours by bus to be here and learn from these and a full day of speakers, how they can approach becoming legal professionals.
The stories of Judge Rivera and Ms. Rivera-Lassen are bringing a light-hearted, but clear message that si se puede, if you apply yourself to school now.
Judge Jenny Rivera(left), Roberto Colon(middle), Adi Martinez – Asst. Dean UPR Law
Professor Raquel Aldana, of University of the Pacific, McGeorge School of Law introduced the session to students this morning, herself a child of immigrants, herself having come to the United States without speaking English, and herself having graduated from Harvard Law School and working a successful legal career.
Rafael Cancel, is speaking to students about his family history of unlikely introduction to the law with his father who spent years incarcerated, now he serves as the President of the Board of Directors of the National Association of Environmental Law in Puerto Rico. He has students listening intently with his difficult triumph through law school to a career making a difference from a very different life growing up.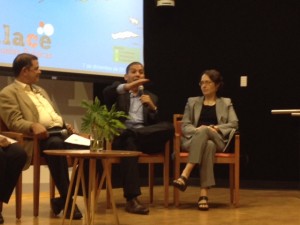 More updates to come… but SALT would like to sincerely thank all at the University of Puerto Rico School of Law and the ENLACE volunteer students from the law school who make this pre law program available, and Mariluz Jimenez, who was the driving force organizing on the ground. We are looking forward to an excellent continue to the day.